Tips for Cooking with Cannabis
Through the years, consuming cannabis has continuously evolved. Aside from smoking, ingesting cannabis is a great option to enjoy its intoxicating qualities. With cannabis edibles, you can enjoy their lasting effects for 6 to 8 hours. So if you are wondering how to cook your own delicious cannabis recipes, this article is for you.
Here are seven helpful canna-cooking tips you need to know:
1. Choose the Right Cannabis Strain
There are many options to choose from with cannabis strains. Every strain has a unique taste and scent. For newbies, it is advisable to select cannabis with your preferred aroma. Plus, smelling marijuana can also help in flavor selections.
If you are still uncertain about cannabis strains, you can visit Cupcake's Cannabis to browse their latest strains or ask one of our friendly budtenders for their recommendations. They are willing to assist anyone with their queries and with choosing the best cannabis strain for any given recipe or preference.
2. Decarboxylate Before Anything Else
Remember to decarboxylate your cannabis before anything else. But what do we mean by decarboxylate? Decarboxylation is the chemical process that involves heating marijuana through baking. Keep in mind that decarbing should be done properly. These simple steps can help you.
Cut, grind, or break your cannabis into small, pea-size chunks.

Place it on a baking sheet with parchment paper at 220ºF for 30-40 minutes. 
3. Calculate the Cannabinoid Dosage
It is essential to calculate the cannabinoid dosage of your edibles. Start with a low dose, and then increase it if you want more powerful effects. Cannabis can be unpredictable at times, so it is best to start slow and with smaller doses. To get an accurate measurement of your edible's potency, use a kitchen scale or milligram-precision scale.
Keep in mind that intoxicating effects last longer as you ingest cannabis. Start with small portions and give it at least three hours if you want more. Keep practicing until you find your ideal taste and aroma. 
4. Select The Best Recipe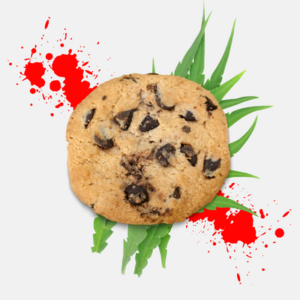 As mentioned, edibles can produce strong effects. So, it is important to choose the right recipes for your needs. You can find many delicious cannabis recipes online. But if you are a beginner, you may want to start with simple ones like brownies or cookies.
Here are some great cannabis and CBD starter recipes to try:
Be sure to purchase your product from a reliable cannabis provider. At Cupcake's Cannabis, we have the latest cannabis strains for your next recipe. Our cannabis Winslow, Maine strains include Wedding Pie, Wedding Cake, Fruit Flambé, GMO Cookies, Grape Koolaid, and Slurricane.
5. Properly Store Leftovers
It is time to store your leftovers as you finish cooking and baking properly. You can place them in a plastic container or zip bag. Remember to put labels on it. Through this, it can avoid accidental ingestion for your roommates or colleagues. More importantly, keep it out of children's or pets' reach.  
Final Thoughts
Cooking with canna may seem intimidating at first. But as you practice, you will find this process enjoyable and fulfilling. Remember to keep these helpful tips in mind, and you'll be good.  
If you are looking for the best cannabis strains in the market, you should check Cupcake's Cannabis! We have the widest range of cannabis strain options for your cannabis-infused recipes. Cupcake's Cannabis aims to provide the best cannabis in Winslow, Maine, with exclusive Maine-grown strains.