Creative Ways to Show Someone You Love Them on Valentine's Day With Cannabis
Gift buying can be a daunting task, especially when you want to find something truly special and meaningful for your loved one. On Valentine's Day, it's especially important to go the extra mile and show your partner how much you care.
One unique and thoughtful gift idea is to incorporate cannabis into your Valentine's Day celebration. Whether it's a special strain of flower, a THC-infused chocolate, or a relaxing massage oil, there are plenty of ways to make cannabis a part of your holiday plans.
If you're feeling overwhelmed by the gift-buying process, look no further than Cupcake's Cannabis. We have a wide selection of Valentine's Day gifts that are sure to impress and delight your loved one. From personalized presents to unique and fun options, we have something for everyone. Take your Valentine's Day celebration to the next level with Cupcake's Cannabis.
In this article, we'll explore some creative ways to show someone you love them this Valentine's Day:
Create a Custom Cannabis-Themed Gift Basket
Everyone else sends flowers and cards, so give yours a spin by incorporating cannabis in your gift basket. You'll need to get creative here, so you can take it as far as you like. Generally, you only need to buy a flower bouquet, rolling papers, and lighters and arrange a few nugs of Cupcake's Cannabis strains among the blooms.  
You can spice up your bouquet and buy a cannabis-themed gift basket full of Cupcake's Cannabis strains. Cupcake's Cannabis Valentine's Day gift strains selections include: 
Breeder: In-House Genetics
Indica-Dominant Hybrid
Cross: Triangle Kush x Animal Mints
Breeder: Supernova Gardens
Coffee Cookies
Offensive OG
Visit Cupcake's Cannabis online shop to see our full inventory of Cannabis strains here. 
Make Edible Treats With Cannabis-Infused Ingredients
Cannabis Fudge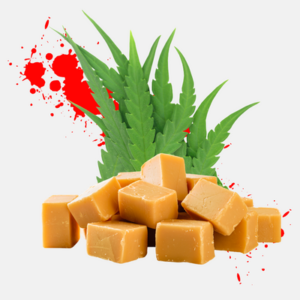 If you want to try a cannabis-infused dessert, go no further than this foolproof recipe for tasty fudge. This fudge takes only 20 minutes to prepare and has a wide variety of flavor infusions you can pick from. 
Freezing the fudge in individual servings is an excellent way to store it and maintain its potency if you don't plan on eating it all within seven days. 
Cannabis Guacamole
Avocado and Cannabis come together in a cozy and delicious guacamole. That's probably why it's considered a favorite dip by many. 
Additionally, this dish stays well in the fridge for up to 5 days if stored in an airtight container, but it is fresh from the oven at its peak. 
Give Them a Personalized Joint or Pre-Rolled Blunt
Finding a suitable present for someone who often smokes joints can be tricky. Dab tools and carb carps are only two of the many accessories available to extract users. Pipe and one-hitter enthusiasts will always value a well-made glass piece.
The cannabis lover in your life will appreciate novel and creative gifts such as personalized joints or pre-rolled blunts that will elevate the weed-smoking experience for anyone. 
Set Up an At-Home Spa Day with CBD Bath Bombs and Lotions
Nothing is more soothing during the Valentine's Day season than a hot bubble bath for two love birds. Fill the tub and add your favorite scented soaps and oils to make an aromatic bath. 
CBD-infused bath bombs and body creams may make it even more enjoyable! The fun of you and your valentine in the tub will be multiplied by a thousand with the addition of these charmed products. CBD bath bombs and lotions increase the soothing effects of a warm bath.
High Valentine's Day! 
There are many options to make a romantic date and gifts based around love, whether you want to spend the holiday lounging with your sweetie or give them a new experience with Cannabis Valentine's Day gifts. 
The Cupcake's Cannabis team is committed to easing the process of purchasing medicinal cannabis. Of course, cannabis-related gifts should also be given only to those of legal age and if cannabis is legal in their state.
Visit our caregiver shop at 46 Bay St., Winslow, ME, or call 207-313-6182 to place your order.