Explore Maine Summer Destinations
Maine is an ideal place to visit in the summer. There are many different destinations to explore, each with its unique charm. If you are looking for beaches and mountains full of activities and places to explore, Maine has something to offer everyone.
So, if you're someone who enjoys the outdoors, Maine is the right place for you. 

Here are some of Maine summer activities that it can offer:
Biking

Camping

Fishing

Hiking 

Climbing
From outdoor activities to shopping and attractions, lobster, and as you know Maine is a well-known cannabis destination, you can all enjoy it all in the beautiful state of Maine. So, here are some places to visit:
Acadia National Park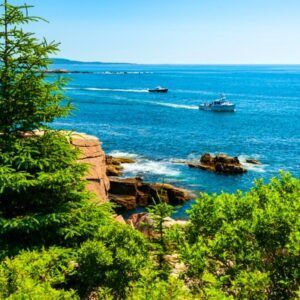 Acadia National Park keeps the natural beauty of the highest rocky headlands along the United States Atlantic coast and the variety of habitats, diverse wildlife, and rich cultural heritage. Most of the park's 47,000 acres are on Mount Desert Island, with smaller sections on the Schoodic Peninsula and Isle au Haut.
This national park is one of the top ten most visited national parks in the United States. There are 27 miles of ancient automobile roads, 158 miles of hiking paths, and 45 miles of carriage routes for visitors to explore. 
Here are some park activities you could do during your visit to the park:
HIking

Wildlife viewing

Fishing

Biking

Bus or boat tours
Cadillac Mountain
Cadillac Mountain is a favorite attraction for Acadia National Park tourists. It is the highest peak on the eastern shore of the United States, providing breathtaking views of glaciated coastal and island scenery. A lot of visitors watch the sunrise at Cadillac Mountain. In addition, the summit has informative trails, bathrooms, and a gift shop. 
Portland Head Light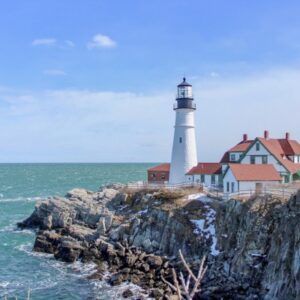 Portland Head Light, the state's oldest lighthouse, is located along the shoreline of Fort Williams Park at Cape Elizabeth, marking the entrance to the marine channel into Casco Bay. This lighthouse is a treasured landmark not only for its historical significance. There's a nearby 90-acre park that serves as its home, which features breathtaking ocean sights, hiking, and walking pathways with viewing lenses.
Along with the lighthouse, you could also visit the museum in the former keeper's house. It is where you may find lighthouse lenses, informative displays, and a seasonal souvenir shop. 
Mount Katahdin
Mount Katahdin is the highest mountain located in Maine and the northern end of the Appalachian Trail. The mountain is towering above the relatively low Maine lakes and forests a mile above sea level. 
Five main peaks can be found in the mountains, counterclockwise from the north. These are: 
Howe Peak

Hamlin Peak

Baxter Peak, which is the summit

South Peak

Pamola Peak
There are a lot of routes that you could use to reach the summit or the different peaks. All of these include some second to fourth-class climbing and come from three broad directions: north, east, and southwest. With each of these routes and directions, you could enjoy different attractions and views, like the Chimney Pond.
Kennebunk & Kennebunkport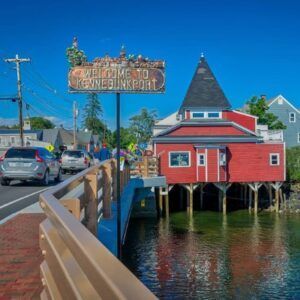 Kennebunk and Kennebunkport are two of Maine's most popular vacation spots. There are many beaches to choose from, shopping stalls on the streets, and Maine's best restaurants. Additionally, there are a lot of inns and hotels to stay in. The Kennebunk River separates the towns, creating a scenic riverbank aesthetic in addition to the stunning Atlantic coastline.
With this, there are a lot of things you could do during summer in Kennebunk and Kennebunkport. Some of these are:
Swimming

Kayaking and Paddleboarding

Fishing

Shopping

Food tours
Baxter State Park
Baxter State Park has 209,644 acres in the area. There are streams and lakes in that vast land and over 40 peaks and ridges besides Katahdin, Maine's tallest mountain. Including 215 miles of hiking paths, 10 camping grounds, and countless backcountry camping spots. 
With its large area, you could enjoy different activities, adventures, and experiences, like the following:
Rock Climbings

Hiking 

Camping

Kayaking and Canoeing

Fishing
Conclusion
If you're looking for a destination for your summer vacation, Maine is the place for you. From hiking in the mountains to exploring coastal towns, there's something for everyone in Maine. Don't forget, we can accept medical cannabis cards from most states with a valid form of identification. So what are you waiting for? Start planning your trip today!